Friday, 11 January 2013 20:18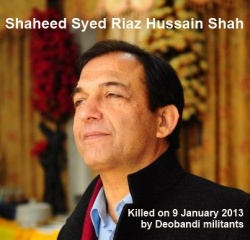 It is with profound grief that we have heard about the sad demise of Dr. Riaz Hussain Shah. Dr. Riaz was Air Marshal Syed Qaiser Hussain's brother and was killed in a target shooting outside his clinic in Peshawar.  He had earlier survived a suicide attack by terrorists in 2008 in Kurram Agency. We pray that Allah gives him His choicest place in Heaven and give the family the courage to bear this great loss.
Air Marshal Qaiser Hussain has also served as Ambassador of Pakistan to the UAE. The whole Abdalian community expresses its deep condolences to him  and the whole family in this hour of grief.
Born on May 11, 1959, Dr Riaz was a graduate of Khyber Medical College. He was a specialist in gastroenterology and practiced at a private clinic in Habib Medical Centre, Dabgari Gardens. Dr Riaz is survived by his widow and three sons.
News contributed by Kamran Niaz via Facebook.